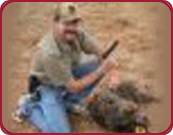 FAVORITE STYLE OF BOAR HUNTING:
Hog Doggin' is my favorite, although I do love stalking, trapping
and long range shots, it's hard to beat the sound of a good solid bay.
FAVORITE WEAPON:
Knife.
BOAR SPECIALTY:
I guess I'd have to say stalking them.
OTHER GAME PURSUED:
Deer, Turkey, Coyote, Prairie Dogs, and most kind of birds.
ADVICE TO NEW HOG HUNTERS:
It's hard to listen and learn with an open mouth. Pay attention and keep after it, we've all been smoked by them before too.
STATEMENT TO THE SPORT:
Only when you take a kid into the woods for his first hunt, will you truly understand the term "Hunting is a privilege."
FAVORITE WILD BOAR CHARACTERISTIC:
Intelligence and will to survive.