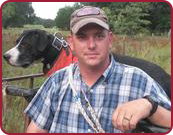 FAVORITE STYLE OF BOAR HUNTING:
​There is nothing like the rush I get when I hear a bay start and again
when the catch dog hits. Couple that with the fact that I get to watch
the dogs learn and grow and share in their success and hunting with
dogs is hands down my favorite.
FAVORITE WEAPON:
Knife.
BOAR SPECIALTY:
I would say hunting with dogs and stalking. When conditions are right I like to start off on a set of tracks and see where they lead.
OTHER GAME PURSUED:
Deer, coyote, dove, turkey and I enjoy trapping furbearers and setting trotlines for catfish.
ADVICE TO NEW HOG HUNTERS:
Take it slow and listen to people that are more experienced than you. I was fortunate to have some great hog hunting mentors when I started out and I still seek out their advice. Treat other hunters and landowners as you would want to be treated, to include their animals and property.
STATEMENT TO THE SPORT:
Be a good steward to the sport or we will lose it. Present a positive image of hog hunters, and conduct yourself like someone you would want hunting on your land. Take kids and new people hunting when you can, and show them the right way. They are the ones who will carry our sport into the future and it is in our hands to make sure that they are well equipped to pass on the traditions of hunting with dogs.
FAVORITE WILD BOAR CHARACTERISTIC:
​Toughness and adaptability