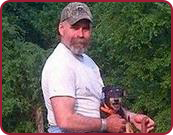 FAVORITE STYLE OF BOAR HUNTING:
Hunting with my dogs. For the past several years I have put together my
pack and most recently started following them from my mule. The pride,
accomplishment, and excitement I feel while watching my dogs work
elevates this type of hunting above all the rest for me.
FAVORITE WEAPON:
With the dogs, I prefer my old Model 94 Winchester lever gun in 30-30. From the stand, I love my Matthew's Z-Light Bow.
BOAR SPECIALTY:
Trapping is my forte. I love the challenge of getting wary hogs into the trap. Setting up the trap to overcome the hogs' natural instincts and his learned behaviors is the key.
OTHER GAME PURSUED:
Trapping and snaring all fur bearing critters. I just love to trap. Ducks, Deer, Squirrel, and Eastern Turkey are also game I enjoy hunting. If it's in season, I'm for it.
ADVICE TO NEW HOG HUNTERS:
Listen and learn all you can from those who have had consistent success and have fun with it. Chasing hogs is fun no matter how you go about it.
STATEMENT TO THE SPORT:
Waste Not, Want Not -- Always utilize what you take. You may not need the hogs, but somebody does. We all take more than we need for our own use in the name of crop protection and population management. Sell them, give them away, and donate them. Use them for dog food, give them to zoos or big cat rescues for food. Just utilize the hogs you take. It is in the best interest of what we love to do and sheds a positive light on our most cherished pastime.
FAVORITE WILD BOAR CHARACTERISTIC:
Their ability to learn. Everything you do wrong, they learn from and become more educated, wary and elusive.