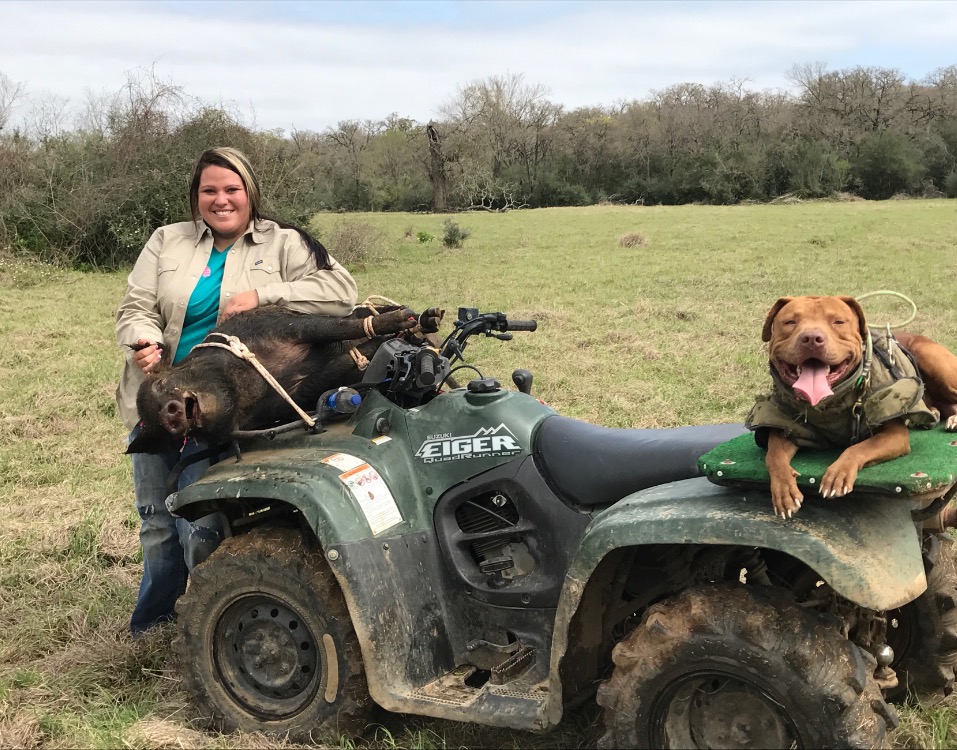 FAVORITE STYLE OF BOAR HUNTING:
Hunting with dogs.
FAVORITE WEAPON:
K bar knives
BOAR SPECIALTY:
I love to breed, raise, and train my own dogs. I also train dogs for the general public. I just enjoy time spent in the woods behind good dogs catching hogs and making memories that last a lifetime.
OTHER GAME PURSUED:
Deer, Dove, and Coyotes
ADVICE TO NEW HOG HUNTERS:
If you are new to the the sport, I would recommend finding someone who is a responsible person, well respected in the sport, and an ethical hunter. Stick close to them and learn to hunt and apply yourself in the most positive way possible. Just remember that each and every one of us should display a positive image to the general public and try to keep it as professional as we possibly can. We also should respect the animals we are pursuing by being as humane as possible and showing compassion for all living things that God has given us from start to finish.
STATEMENT TO THE SPORT:
This is not just a sport to me. It is my passion. It is what I do every day, from training hog dogs to guiding hunts for an outfitter service. I make my living hunting hogs. I share my knowledge on a daily basis with fellow hunters and youth from all over the United States and then some. I never turn down an opportunity to educate the public or our youth and have even visited schools and given a class on feral hogs. I have even done news segments. I feel like we, as hunters, need to stand up in a positive and professional manner and do all we can to help fellow hunters and educate the general public in a positive manner. We should display humane and ethical ways of handling hogs and dispatching them. Never turn down an opportunity to do your part and speak up for our sport or to help a young or inexperienced hog hunter. Don't make fun of them, instead make a difference and help them. After all, they are our future and this is a privilege!
FAVORITE WILD BOAR CHARACTERISTIC:
The hair on his back.